Title:
The Midwife of Hope River
Author:
Patricia Harmon
Publisher:
William Morrow
Pages:
382
Copyright:
2012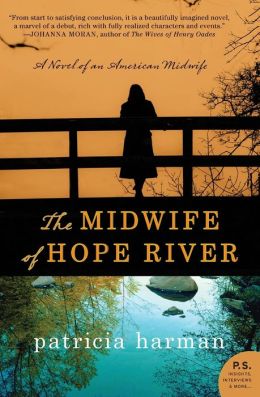 From the back cover:
Midwife Patience Murphy has a gift: a talent for escorting mothers through the challenges of bringing children into the world. Working in the hardscrabble conditions of Appalachia during the Depression, Patience takes the jobs that no one else wants, helping those most in need- and least likely to pay. She knows a successful midwifery practice must be built on a foundation of openness and trust- but the secrets Patience is keeping are far too intimate and fragile for her to ever let anyone in.
I loved every page of this book. I was drawn in from the first page to the descriptive imagery of Depression Era Appalachia. This was a very hard novel to put down. Patience is strong, yet vulnerable. She is brave, yet fearful of her past catching up with her. Her lack of prejudice and openness make her different from her neighbors in West Virginia. Many of them view her with mistrust, yet they need her in a community where the only doctor refuses to help black people or poor people.
It wasn't just the midwife aspect that made this book appealing. The everyday life of two women- Patience and Bitsy (a young black woman)- making their way in rural Appalachia makes this book a page turner. There is so much more to this book than just the midwife aspect. The book deals with prejudice, spousal abuse, exploitation of Coal Miners, heartbreak, and redemption.
I love Harman's simple writing style. I look forward to reading more of her work.
This one is definitely a keeper.
Read this book if....
*you love novels set in Appalachia
*you love southern fiction
*you love novels about midwifery
*you love novels set in the Depression Era
*you love novels about race relations and racial issues in the early 20th century